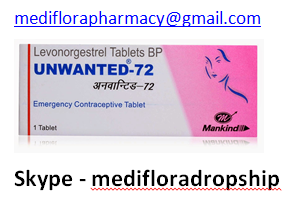 Unwanted-72 Capsule
Product Code : 19
Price And Quantity
Minimum Order Quantity

:

10
Unit of Measure

:

Piece/Pieces
Product Specifications
Formulations Type

:

General Drugs
Formulations Form

:

Capsules
Gender/Age Group

:

Suitable For All Ages
Storage Instructions

:

Store in Cool
Product Description
Emergency Contraception is slowly emerging as the need of the hour. Various medical interventions have been employed to prevent pregnancy from accidental or unintended coital exposure. Intra Uterine Devices which were earlier used for emergency contraception have now lost out to hormonal drugs. These have proven efficacy and are inherently convenient to use. Among the hormonal pills, unwanted 72 emergency contraceptive pill offers the advantage of single drug single dose intake versus any combination pill that needs higher and more doses. Unwanted 72 not only minimizes side effects but is solid in efficacy for preventing unwanted pregnancies arising out of unplanned coital acts. Unwanted 72 is not only readily available but comfortable and covert to use for emergency contraception.
We also have in stock I-Pill manufactured by Cipla which is another tablet used for the same indications.
Unwanted pregnancy is often the inevitable outcome of sudden undesired sexual exposure or coital contact. These episodic encounters can happen through various ways including one night stands, rape, incest or unforeseen lapses with other contraceptive measures.
The consequences of such unintended, accidental or forced contact are manifold. The looming threat of an undesired pregnancy takes its toll on many a nubile mind. Emotional trauma, psychological turmoil, physical changes and above all the bane of social ostracism may be detrimental in such situations. Emergency contraception proves invaluable to negate such unwanted repercussions.
Two effective methods are presently available to remedy this unfortunate situation. These include Hormonal and Intra Uterine Device based methods.
Unwanted 72 contains Levonorgestrel the mainstay of hormonal pill based methods of Emergency contraception. When compared to the IUD, the LNG pill - Unwanted 72 is readily available, accessible and easy to use. It involves the intake of just one dose in one pill.
Unwanted 72 has therefore rightfully earned the moniker "Post coital Pill".
Contact Us
H. O.-102, Sector-78, Sakatpur, Gurgaon, Haryana, 122002, India