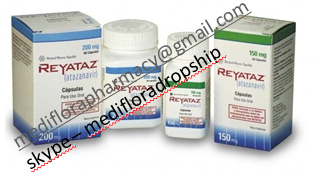 Reyataz
Product Code : re
Price And Quantity
Minimum Order Quantity

:

10
Unit of Measure

:

Pack/Packs
Product Specifications
Formulations Type

:

General Drugs
Formulations Form

:

Tablets
Gender/Age Group

:

Suitable For All Ages
Storage Instructions

:

Store in Cool
Product Description
Reyataz is an HIV medication. It is in a category of HIV medicines called protease inhibitors (PIs). Reyataz prevents cells infected with HIV from producing new virus. This reduces the amount of virus in your body.
Reyataz must be used in combination with at least two other HIV drugs.
Reyataz is broken down (metabolized) by the liver, like many medications used to treat HIV and AIDS. This means that Reyataz can interact with other medications. Reyataz can lower or raise the levels of other medications in the body. Similarly, other medications can lower or raise the levels of Reyataz in the body. While many interactions are not a problem, some can cause your medications to be less effective or increase the risk of side effects.

The following medications should not be taken while you are being treated with Reyataz:

HIV protease inhibitors: Crixivan (indinavir)
Acid reflux/heartburn medications: Propulsid
Antibiotics: Rifadin (rifampin)
Cancer chemotherapeutics: Camptosar (irinotecan)
Antimigraine medications: Methergine, Methylergometrine (methylergonovine); Ergostat, Cafergot, Ercaf, Wigraine (ergotamine); Ergotrate, Methergine (ergonovine); or D.H.E. 45, Migranal (dihydroergotamine)
Antihistamines: Hismanal or Seldane
Steroids: Flonase of Flovent (fluticasone)
Cholesterol-lowering drugs (statins): Zocor (simvastatin) and Mevacor (lovastatin)
Antipsychotics: Orap (pimozide)
Sedatives: Versed (midazolam) and Halcion
Herbal medications: St. John's wort
Enlarged prostate: Uroxatral (alfuzosin)
If Reyataz is combined with low-dose Norvir, the following medications should also be avoided:
Antifungals: Vfend (voriconazole)
Heart medications: Cordarone (amiodarone), Tambocor (flecainide), Vascor (bepridil), Rythmol (propafenone), or Quinaglute/Quinidex (quinidine)
Contact Us
H. O.-102, Sector-78, Sakatpur, Gurugram, Haryana, 122002, India