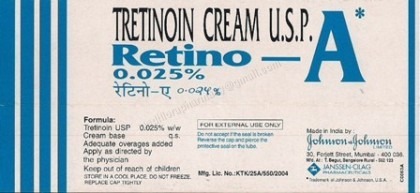 Retino- A 0.0025%
Product Code : Retino- A 0.0025%
Product Description
Retin-A Cream 0.025 % Product Information
Retin-A (Tretinoin) is used to improve the appearance and texture of the skin.
Name of Drug
Retin-A Cream: We supply Retino-A Cream 20g manufactured by Johnson&Johnson, the parent company of the patent holder Janssen-Cilag Pharmaceuticals. (Sometimes Retin-A Cream is also referred to as: Renova, Aberela, Avita, Airol, Atralin, Stieva-A and Vesanoid ).
Active Pharmaceutical Ingredient
The active pharmaceutical ingredient present in Retin-A Cream 0.025 % is Tretinoin.
Drug Uses
Retin-A is commonly used to treat acne vulgaris and keratosis pilaris. Retin-A (Tretinoin) is also used to improve the appearance and texture of the skin.
Retin-A Cream 0.025 % Dosage
Apply a thin layer to affected area once a day at bedtime. Use a gauze pad or cotton swab to apply the liquid. Wash your hands immediately after use. Using this medication more frequently or in excessive amounts does not improve the results, but may increase side effects. Avoid applying near the eyes, mouth, or open cuts since this medication can irritate sensitive skin. Acne may appear to worsen when the medication is first used; continue therapy. It may take three to six weeks before the full benefits of this medication are seen. Use mild soap when washing your face. Do not wash face excessively. Abrasive soaps, cleansers, medicated creams or lotions can increase skin irritation. Consult your doctor or pharmacist about their use. Use other acne preparations with caution while using this medication.
Contact Us
H. O.-102, Sector-78, Sakatpur, Gurugram, Haryana, 122002, India