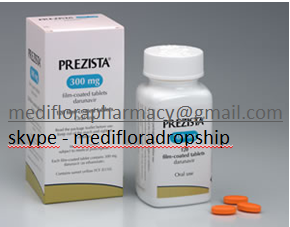 Prezista
Product Code : Pr
Price And Quantity
Minimum Order Quantity

:

10
Unit of Measure

:

Pack/Packs
Product Specifications
Formulations Type

:

General Drugs
Formulations Form

:

Tablets
Gender/Age Group

:

Suitable For All Ages
Storage Instructions

:

Store in Cool
Product Description
PREZISTA is always used with 100 mg ritonavir (Norvir) in combination with other HIV (human immunodeficiency virus) medicines for the treatment of HIV infection in treatment-experienced adult patients, such as those with HIV resistant to more than one PI.
The use of other medications active against your HIV in combination with PREZISTA/ritonavir may increase the likelihood of your overall treatment response. Your doctor will work with you to find the right combination of other HIV meds.
The long-term benefits and side effects of PREZISTA therapy are unknown at this time. It is important that you remain under the care of your doctor.
Prezista (darunavir) is a protease (PRO-tee-ayz) inhibitor. Darunavir is an antiviral medication that prevents human immunodeficiency virus (HIV) from multiplying in your body. Prezista is used to treat HIV, the virus that can cause acquired immunodeficiency syndrome (AIDS). Prezista is not a cure for HIV or AIDS.
Contact Us
H. O.-102, Sector-78, Sakatpur, Gurugram, Haryana, 122002, India