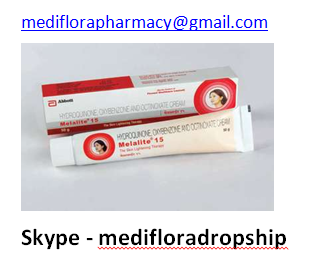 Melalite Cream (Hydroquinone Topical Cream) Product Information
Melalite cream is used to lighten areas of darkened skin such as freckles, age spots, chloasma, and melasma (dark skin discoloration). It can be used for all age groups. The tubes contain 30 grams of cream. The strength is 4 %w/w
Name of Drug
Melalite cream. Melalite cream is also referred to as: Hydroquinone Topical Cream, Aclaro, Alera, Alphaquin HP, Alustra, Claripel, Eldopaque, Eldoquin, Eldoquin Forte, EpiQuin Micro, Esoterica, Glyquin, Glyquin-XM, Hydroquinone cream, Lustra, Melpaque HP, Melquin HP, Melquin-3, Nuquin HP, Solaquin, Melanex, Melanol, Viquin Forte, Esoterica Sensitive Skin, Nava-SC, Remergent HQ, EpiQuin Micro Pump.
Manufacturer of Melalite cream
Abbott India Ltd.
Website: abbott.com
Active Pharmaceutical Ingredient in Melalite Cream
The active pharmaceutical ingredient in Melalite cream is hydroquinone topical.
Uses of Melalite Cream
Melalite cream is used to lighten areas of darkened skin such as freckles, age spots, chloasma, and melasma (dark skin discoloration).
Drug Class and Mechanism
Melalite cream is an de-pigmenting agent. Hydroquinone, contained in Melalite cream, decreases the formation of melanin (the pigment in the skin which produces brown color) in the skin. Melalite Ointment may also be used for other purposes not listed in this medication guide.
Melalite Cream Dosage
Apply the ointment to the affected area of your skin twice daily.