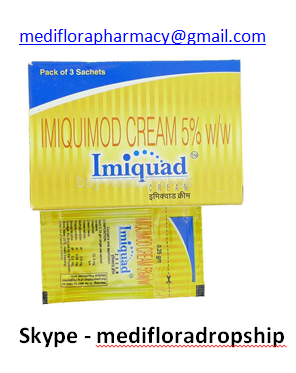 Imiquad Cream
Product Code : Imiquad Cream
Price And Quantity
Minimum Order Quantity

:

10
Unit of Measure

:

Pack/Packs
Product Specifications
Formulations Type

:

General Drugs
Formulations Form

:

Cream
Gender/Age Group

:

Suitable For All Ages
Storage Instructions

:

Store in Cool
Product Description
Imiquad Cream (Imiquimod 5% Cream or Generic Aldara) – Product Information
Imiquad Cream (Imiquimod 5% Cream) is used for the treatment of actinic keratoses (a type of skin growth), superficial basal cell carcinoma or skin cancer. Imiquad Cream (Imiquimod) Cream, 5%, is supplied in single-use packets. Each packet contains 250 mg of the cream which is equivalent to 12.5 mg of imiquimod.


Name of Drug
Imiquad Cream is also commonly referred to as Aldara Gel, Aldara Ointment, Zyclara and Beselna.
Each 0.25 g single sachet contains Imiquimod 12.5 mg


Manufacturer of Imiquad Cream (Generic Aldara or Imiquimod 5% Cream)
Gracewell


Active Pharmaceutical Ingredient
The active pharmaceutical ingredient present in Imiquad Cream is imiquimod


What is Imiquimod 5% Cream (Imiquad) Used for?
Imiquad cream contains Imiquimod, which is an immune response modifier. Imiquimod 5% Cream is used to treat nonhyperkeratotic, nonhypertrophic actinic keratosis (a condition caused by too much sun exposure) on the face and scalp.
Imiquimod 5% Cream is also used to treat a minor form of skin cancer called superficial basal cell carcinoma, when surgery would not be a medically appropriate treatment.
Imiquad Cream 5% also treats genital warts that appear on the outside of the body, but this medicine is not a cure for genital warts.
Imiquad may also be used for treating perianal warts/condyloma acuminata or other purposes not listed in this medication guide.


Imiquad Cream Dosage
Use Imiquimod 5% Cream exactly as it was prescribed for you. Do not use the medication in larger amounts, or use it for longer than recommended by your doctor.
For a typical treatment Imiquad Cream should be applied 2 times per week for a full 16 weeks to a defined treatment area. The treatment area is defined as one contiguous area of approximately 25 cm2 (e.g., 5 cm x 5 cm) on the face (e.g. forehead or one cheek) or on the scalp. Examples of 2 times per week application schedules are Monday and Thursday, or Tuesday and Friday. Imiquimod 5% Cream should be applied to the entire treatment area and rubbed in until the cream is no longer visible. No more than one packet of Imiquad Cream should be applied to the contiguous treatment area at each application.
Your dosage may be different. Please consult your doctor. Follow the instructions on your prescription label. Using too much of this medicine, or using it for too long can increase your risk of severe skin reactions.
Contact Us
H. O.-102, Sector-78, Sakatpur, Gurugram, Haryana, 122002, India