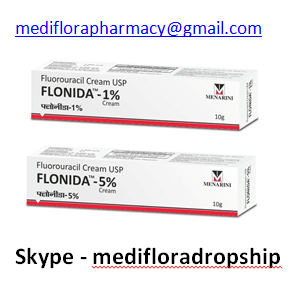 Flonida cream
Product Code : Flonida cream
Price And Quantity
Minimum Order Quantity

:

10
Unit of Measure

:

Pack/Packs
Product Specifications
Formulations Type

:

General Drugs
Formulations Form

:

Cream
Gender/Age Group

:

Suitable For All Ages
Storage Instructions

:

Store in Cool
Product Description
Product Information
Flonida Cream (Generic Fluorouracil) is available in 1% and 5 % strength.
Fluorouracil the active pharmaceutical ingredient in Flonida cream stops the growth of abnormal skin cells. It is used to treat various skin conditions such as keratosis, superficial basal cell carcinoma, psoriasis and genital warts.
Name of Drug
Flonida cream. Flonida Cream is also referred to as
fluorouracil topical, Carac, Efudex, Fluoroplex.
Manufacturer of Flonida Cream
Shalaks Pharmaceuticals Pvt. Ltd.
website:shalaks.com
Active Pharmaceutical Ingredient in Flonida Cream
The active pharmaceutical ingredient in Flonida Cream is fluorouracil.
Uses of Flonida Cream
Flonida Cream is used to treat the below mentioned indications:
solar keratosis
actinic keratosis
superficial basal cell carcinoma
Bowen's disease (a type of skin cancer)
It also is used to treat some noncancerous conditions in which cells are dividing rapidly, including
psoriasis
genital warts
porokeratosis (an unusual inherited skin condition causing dry patches on the arms and legs)
Generic Fluorouracil Cream works best on the face and scalp and is less effective on other areas of the body. It also destroys sun-damaged skin cells making the skin smoother and more youthful-appearing.
Contact Us
H. O.-102, Sector-78, Sakatpur, Gurugram, Haryana, 122002, India