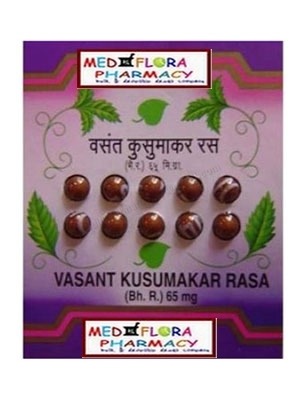 Basant Kusumakar Ras
Product Code : Basant Kusumakar Ras
Product Description
Active ingredients

Prawal bhasma, chandrodya or ras sindoor, moti pishti, abhrak bhasm, Raupya bhasma, swarna or suvarna bhasma, Adulasa swaras, ganna, kamal ke phool, mahuti ke phool, mahuti ke phool, chandan, kasturi.

Basant Kusumakar Ras Action and Therapeutic Uses
Acts as an alterative stimulant & tonic. Indicated in diabetes mellitus, diabetes-inspidus, urinary affections, sexual debility, phthisis, asthma, leucorrhea, diuresis & general debility. Also used as a tonic for heart & brain.

Dosage : 1 tab. with water twice a day.

Packings
25 tabs., 10 tabs. and 5 tabs.
Contact Us
H. O.-102, Sector-78, Sakatpur, Gurugram, Haryana, 122002, India