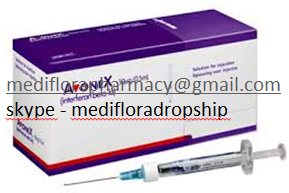 Price And Quantity
Minimum Order Quantity

:

10
Unit of Measure

:

Pack/Packs
Product Specifications
Formulations Type

:

General Drugs
Formulations Form

:

Tablets
Gender/Age Group

:

Suitable For All Ages
Storage Instructions

:

Store in Cool
Product Description
The recommended dosage of AVONEX (Interferon beta-1a) is 30 mcg injected intramuscularly once a week.

AVONEX is intended for use under the guidance and supervision of a physician. Patients may self-inject only if their physician determines that it is appropriate and with medical follow-up, as necessary, after proper training in intramuscular injection technique. Sites for injection include the thigh or upper arm (see Medication Guide).

A 25 gauge, 1 needle for intramuscular injection may be substituted for the 23 gauge, 1 needle by the prescribing physician, if deemed appropriate.

Reconstitution of AVONEX Vials
Use appropriate aseptic technique during the preparation of AVONEX. To reconstitute lyophilized AVONEX, use a sterile syringe and MICRO PIN to inject 1.1 mL of the supplied diluent, Sterile Water for Injection, USP, into the AVONEX vial. Gently swirl the vial of AVONEX to dissolve the drug completely. DO NOT SHAKE. The reconstituted solution should be clear to slightly yellow without particles. Inspect the reconstituted product visually prior to use. Discard the product if it contains particulate matter or is discolored. Each vial of reconstituted solution contains 30 mcg/1.0 mL Interferon beta-1a.

Withdraw 1.0 mL of reconstituted solution from the vial into a sterile syringe. Replace the cover on the MICRO PIN, attach the sterile needle and inject the solution intramuscularly. The AVONEX and diluent vials are for single-use only; unused portions should be discarded.

Using Avonex Prefilled Syringes

The AVONEX prefilled syringe should be held upright (cap faces up). Remove the cap by bending it at a 90angle until it snaps free. Attach the needle and inject the solution intramuscularly. The AVONEX prefilled syringe is for single-use only.
Contact Us
H. O.-102, Sector-78, Sakatpur, Gurgaon, Haryana, 122002, India